When you're on a journey, two questions matter most:
Where are you going?
Are you there yet?
If you're starting—or even just thinking about—a journey to the cloud, you need to start with those questions, too. A Cloud Native transformation brings up a flurry of questions at every turn, but if you haven't answered those two big queries at the start, you'll soon be lost, wandering, following a trail of breadcrumbs, entering the gingerbread house where the old lady who lives there seems so nice until ... wait, wrong journey.
OK, but you will lose time, money, and resources if you wander blindly into Cloud Native.
So how do you find out where you need to go, where you are now, and the gap you need to cross?
In this new whitepaper, learn about an assessment tool that can help your organisation answer those questions in detail: the Cloud Native Maturity Matrix.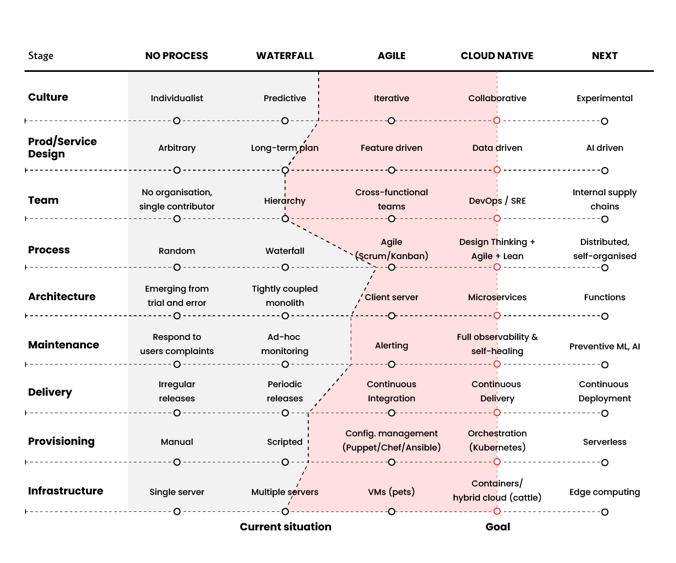 WTF Is the Cloud Native Maturity Matrix? explains the tool developed by Container Solutions through its work in helping guide companies across industries to the cloud.
The Cloud Native Maturity Matrix details what Cloud Native means in nine categories:
Culture
Product/Service Design
Team
Process
Architecture
Maintenance
Delivery
Provisioning
Infrastructure
It also shows what each of those categories means for organisations that work in Waterfall, Agile—or have no particular process at all. The matrix helps you literally draw your own map, as you plot where you are now and how far in each category you need to go to get to your Cloud Native goals.
Request your free copy of WTF Is the Cloud Native Maturity Matrix now.