5 November 2020
11:30 - 13:00 CET
This event is remote (yep, you can still attend in your slippers)
Our new 'WTF Is Cloud Native' project is aimed at educating and growing a community around a new world, one that we're defining together. Here's your chance to join our first WTF event.
Our first WhatTheFuckInar (we've chatted to Oxford about getting the term officially recognised. *fingers crossed*), gives you a 90-minute crash course in microservices architecture: WTF it is, but also when you should and shouldn't use it.
Microservices is an approach to application development in which a large app is built as a suite of components, or services. This enables each component to be isolated, rebuilt, redeployed, and managed independently. A service can generate alerts, log data, support UIs and authentication, and perform various other tasks.
Microservices play an independent role while fitting into the system as a whole; when you need to upgrade or change something, the rest of your application can run uninterrupted.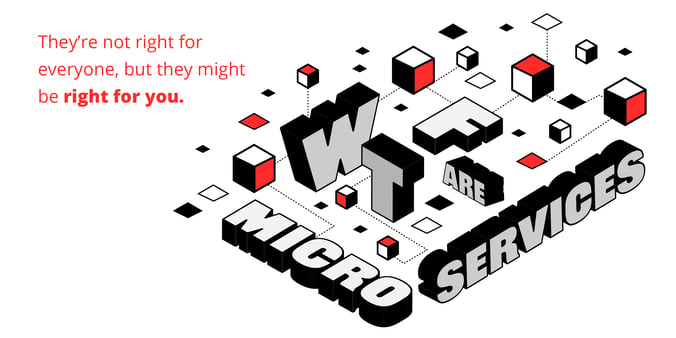 Why the F should I care?
With this modular approach to application development, microservice architecture allows development teams to focus on the goals at hand without worrying about the ripple effect. It saves time, money, energy, and brain power– so developers can focus on things that matter, like innovation, continuous delivery of software, and creating the occasional meme.
The takeaways
An understanding of what microservices are
How microservices can improve turnaround time, efficiency, quality, and reliability
The problems microservices introduce, and when they might not be appropriate to use.
An itch to make the transition from Monolith to Microservices
Understanding steps needed to start making the transition
Who should attend?
Product owners, innovation directors, program managers and directors of transformation
Managers looking to free up resources to focus on innovation and grow the business
Managers wanting to drive organisational change while managing risk
Submit the form to register for this webinar
Who am I going to be listening to?
Sam Newman, the guy who wrote Monolith to Microservices and is now updating his previous book, Building MIcroservices, both published by O'Reilly. Sam is an independent consultant and frequent presenter.