11 February
1PM CET
Virtual 2 hour hands on workshop
PLACES ARE LIMITED TO 12 PEOPLE!
Based on our experience in helping enterprises move to the cloud, Container Solutions has devised a set of patterns that make it easier for developers, managers, and executives to discuss, learn, and apply the best practices in Cloud Native. These are high-level patterns for strategy and risk reduction, intended to guide decision making—patterns for transforming your organisation and culture to this new way of thinking and working.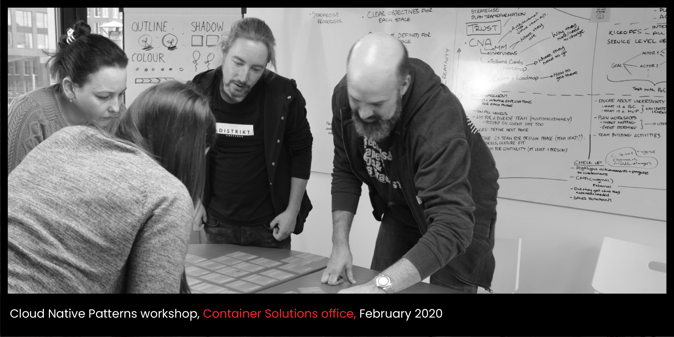 The workshop includes several exercises where you will use Pattern Cards to discuss and implement a Cloud Native Transformation. Before jumping into the action our workshop hosts will explain the concepts and provide a compelling business case why companies should take the leap into Cloud Native.
Who should attend?
No technical expertise is needed for this workshop—executives, managers, and engineers alike can join in. The conversations sparked while playing the Pattern Card Game will help your team think through its own real-life challenges and opportunities.
Key Takeaways:
A clear understanding of what is involved in a Cloud Native Transformation
How patterns can be used to architect a Cloud Native Transformation
Your own Cloud Native position
A shared understanding of where you currently are in your journey and identification of the challenges you have ahead
Meet our facilitators:
Ádám Sándor is a Sales Engineers and Cloud Native architect at Container Solutions.
Thijs Schnitger is a Cloud Native Engineer at Container Solutions.
Meet our host:
Jamie Dobson is co-founder and CEO of Container Solutions, a professional services company that specialises in Cloud Native transformation. With clients like Shell, Adidas, and other large enterprises, CS helps organisations navigate not only technology
solutions but also adapt their internal culture and set business strategy. Jamie is the co-author of the new book Cloud Native Transformation: Practical Patterns for Innovation, (O'Reilly Media, 2020). A veteran software engineer, he specialises in leadership and organisational strategy, and is a frequent presenter at conferences.