30 June
15:00 CEST
Remote
"Cloud Native this. Cloud Native that."
If you only read blog posts or watch conference talks, it looks like the whole world is doing everything in a Cloud Native way.
You'd be forgiven for thinking that your company is the outlier in being behind.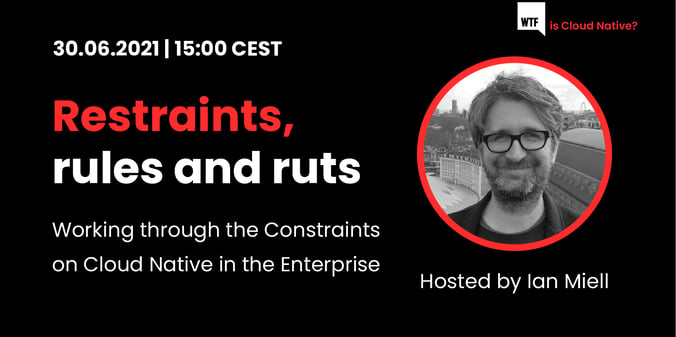 The reality is, that only a low single-digit percentage of IT spend is in the cloud, and an even lower proportion is spent on software that could be called Cloud Native.
But why? If this approach is changing the world of software and business, what's standing in the way?
*Drumroll please*
Let's look at large-scale 'Enterprise' businesses, where constraints to delivering change can include:
Regulations (internally- and externally-imposed)
Audit pressures
Security requirements
Cost pressures
Inappropriate funding cycles
The 'immune system' of legacy organisation 'kicking in'
Institutional inertia
Procedures and processes designed for outdated build and delivery paradigms
These challenges aren't often openly talked about. So how the heck can we begin to work through them - especially when Cloud Native is actually the answer to many of these concerns?
So, we've gathered some big brains who will share their insights, lessons and tips on how things really get delivered in these large-scale businesses.
Who should attend?
Got plans and ideas to disrupt your industry but stuck behind walls of regulations, ruts and rules? Then you.
Managers in larger-scale organisations trying to adopt Cloud Native products and practices
Product owners
Innovation directors
Program managers
Directors of transformation Infrastructure
Development engineers who want to understand why they're not running 'kubectl', or deploying Lambdas daily already.
Our Host:
Ian Miell, has been an engineer for over two decades, and was an early Docker user and advocate, co-writing Docker in Practice for Manning, and giving various talks on it. After spending 14 years writing and maintaining sports betting back-end systems at OpenBet, he was lured away by Barclays to help run their OpenShift platform for a few years before joining an abortive cloud native transformation project at State Street. He has written books on Git, Bash, and Terraform, and given talks on these and related subjects at various conferences.
Our Panelists will include:

Mark Schwartz, an Enterprise Strategist and Evangelist since 2017. In this role, Mark works with enterprise technology executives to share experiences and strategies for how the cloud can help them increase speed and agility while devoting more of their resources to their customers.

Barbara Eder, a Transformation Architect who has led transformation journeys and experiences across regulated industries for over 20 years. Her expertise and experience help with improving digital experience, cutting costs and delivering agile enterprises. Her passion and strategic planning skills are immediately felt in any digital transformation or technology evolution she's part of.

Jonathan Haines, has spent over 30 years working in technology for various large enterprises and regulatory organisations. Moving on from traditional infrastructure management, he became an early advocate of containerization. He built teams to manage container application platforms before the advent of Kubernetes or Docker, overcoming many organisational, technical, and cultural challenges along the way. Since then he's been involved in several large-scale cloud transformation initiatives, working closely with organisations and cloud providers to deliver change in sustainable ways.

Kyle Brown is an IBM Fellow and the CTO of Modernization for IBM Global Markets. He has over 25 years of experience in designing and implementing large-scale systems. Kyle leads a team responsible for helping our customers adopt IBM's cloud technologies and build applications using IBM's cloud products and he is a world-recognized expert on topics in cloud, Java, and software architecture. He publishes often, conducts webinars, and is the author of ten books including the recent "Cloud Adoption Playbook" published in 2018 by Wiley. You can find all of his publications linked at http://www.kyle-brown.com