Download a free 75-page excerpt of our new book from O'Reilly:
Your essential guide to de-risking your company's Cloud Native journey.
Going Cloud Native can be a huge competitive advantage for many companies, but it's a tough transition to get right—especially for enterprises with critical legacy systems. Cloud Native is a new way of working, and very few organisations have experience with this powerful new paradigm.
At Container Solutions we have been doing Cloud Native since before it even had a name. We've gained years of experience and learned vital lessons, helping companies like Google, Adidas and Shell blaze paths through the confusion and complexity.
We are proud to offer a tasting portion of the results: a free excerpt from our new, practical, hands-on guide to Cloud Native transformation.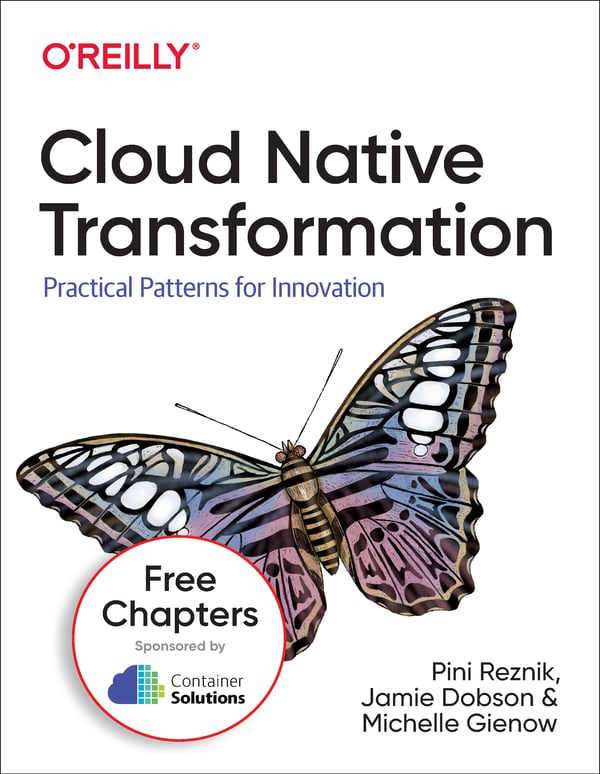 Our book is for anyone who is seriously contemplating Cloud Native. It is not a technical manual, though it's rooted in thorough understanding of Cloud Native architecture, principles, tools, and techniques. Instead, it's a survival kit in the form of a high-level overview of the challenges and choices faced by any organisation, and how to handle them.
We compiled our experience and lessons learned into patterns that describe the essential elements of Cloud Native: architecture, process, technology and culture. Then we added tools to help with understanding and applying patterns to map the right-fit Cloud Native transformation path for any organisation. Technical managers, executive leaders, and engineers alike can now easily understand what works—and what doesn't—when adopting Cloud Native.
From our new book, you'll learn:
What Cloud Native means, and how it reduces risk while speeding up software development
How to keep delivering your core business while also innovating to beat your competition.
Context-specific patterns, and how to apply them to plan a successful transformation.
How to avoid common barriers and pitfalls along the way.
Detailed case studies from real-world companies that have gone Cloud Native—and thrived.
Our excerpt includes:
A foreword by Adrian Cockcroft, an expert on Cloud Native architecture
The case for undertaking a Cloud Native transformation
The story of WealthGrid, a fictional company whose challenges may sound familiar to you
What patterns are, how to use them, and how WealthGrid uses them to map its own Cloud Native journey.
Ultimately, Cloud Native is about building an organisation that can transform and adapt far faster by removing the technical risks associated with change. Using the tools we offer throughout this book, the expert strategies and methods and patterns, you can handle any change that comes your way.

Fill in the form to download your free excerpt. We hope you will go on to read the rest of the book, to help your organisation get ready to navigate the unknown future—before it arrives.