17 September 2021
10:30 BST (2 hours)
This event is remote
In Partnership with Kubernetes Community Day UK
In 4 years, Uber's Android codebase consisted of 428 685 lines of code, contributed by nearly 200 engineers.
The iOS app had 720 273 lines.
Uber had 40 sub-teams across the company.
It was installed in more than three million devices and used daily by one million drivers across more than 100 countries.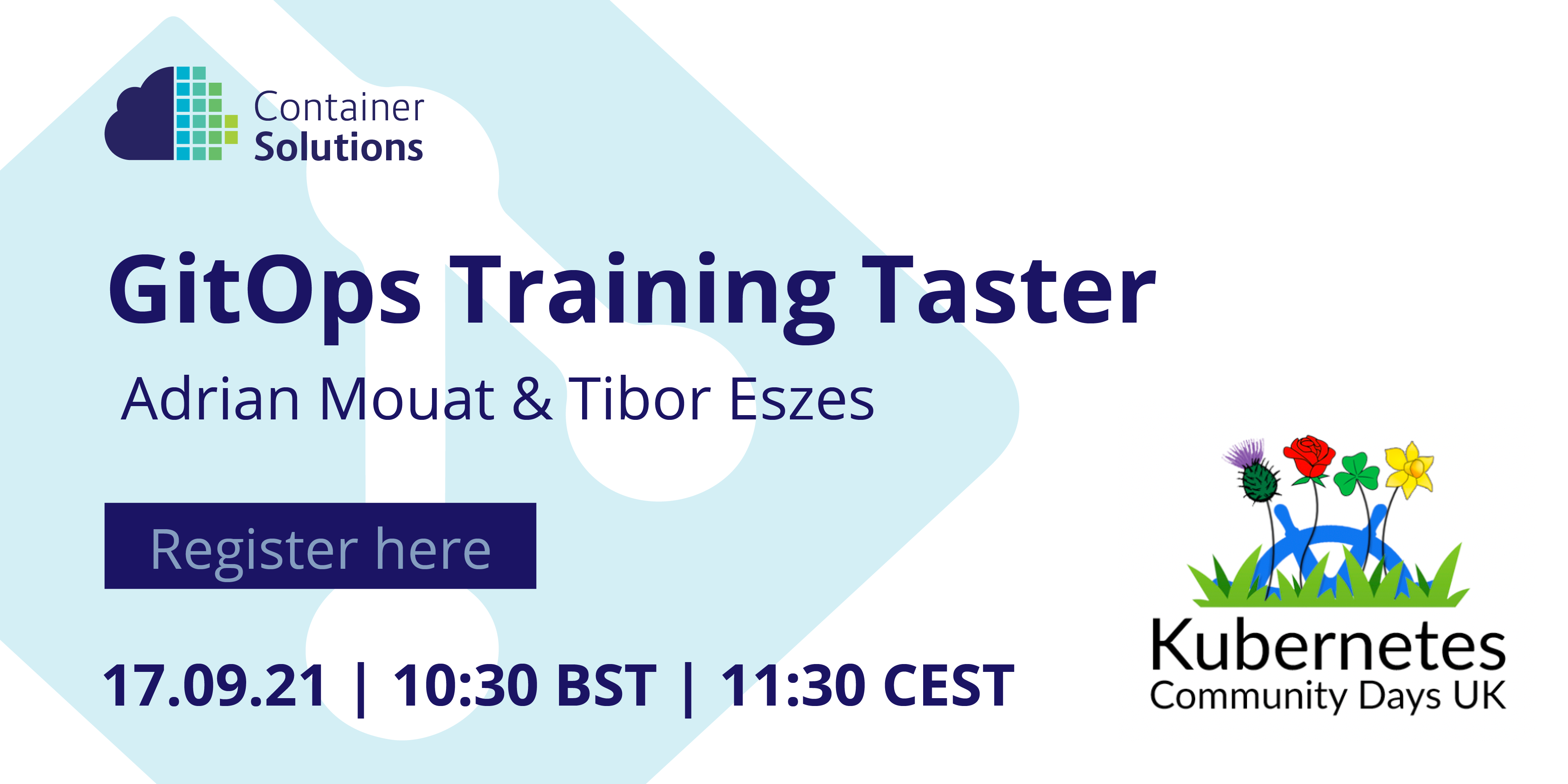 How on earth do you manage that collaboration? That consistency? That version control? That continuous delivery?
GitOps.
GitOps is what makes developers and auditors happy. GitOps is better for business.
Have we mentioned that we're fans of GitOps?
So we're hosting a free two-hour taster workshop to git up to speed with GitOps, and learn how it can help you achieve the magical trifecta of:
making your deployments more stable, while
delivering faster, and
making auditors happy


This is a taster of our full GitOps Essentials workshop.
Should you attend?
We won't lure you with virtual drinks and we can't comment on the comfort of the venue. That one's up to you. But if you're a software developer, DevOps practitioner, or application architect wanting to understand what GitOps is, and gain experience implementing it with an introductory hands-on experience on a Kubernetes platform - then yes, this training taster is perfect for you.
Takeaways
An understanding of the key principles of GitOps and its benefits
Awareness of common tools and technologies
How to implement a basic GitOps pipeline on a Kubernetes platform
You will need
No prior knowledge of GitOps
A basic knowledge of Git (helpful, not essential)
Some knowledge of Kubernetes (also helpful, not essential)
Basic knowledge of Cloud Native concepts and software development (shameless plug - WTF is Cloud Native

)

Access to personal Kubernetes cluster (we recommend minikube or spinning up a small test cluster on GKE)
Meet your trainer

Adrian Mouat has been involved with containers from the early days of Docker and authored the O'Reilly book "Using Docker". He is currently Chief Scientist at Container Solutions, who focus on consulting and product development for microservices and containers. He is currently working on the on an distribution solution for container images called Trow.

Tibor Eszes loves working on machine learning and infrastructure, particularly in the cloud. He has been working with in high-stakes and tightly regulated financial sector engineering departments for some time. Tibor tries to maintain a broad knowledge of infrastructure, with a particular focus and love for open source technologies. He also has an ML research paper which he'll finish at any moment now...
We're excited for this one! Cloud Native is better when more people are part of it.