9 July, 2020
9:00 CEST
Free
This event is remote.
The 8th annual event is back, featuring the culture and tools that improve organisations. Container Solutions is proud to be a silver sponsor this year.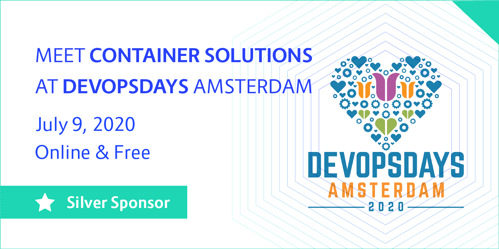 Among the speakers this year will be Lian Li, a Cloud Native engineer and consultant at Container Solutions, who will give a talk on why Kubernetes alone won't "save" organisations that seek to move faster in developing and deploying software, or in meeting customer demand.
Lian will talk about the misunderstandings between business, technology, and an IT team's capabilities that cause Cloud Native transformations to 'fail'. She will provide guidance on tackling these issues properly, and will showcase some of the tools available to help, such as the Cloud Native Maturity Matrix.
What is a Cloud Native Maturity Matrix? Have a look:
Go through the assessment and find out where you are on your Cloud Native journey.
Register here for the event.
Who should apply?
Developers, Operations engineers, QA, InfoSec, IT managers, and leaders.
Highlights
'Why Change Matters Now More Than Ever: The Importance of DevOps in This New World', by Michael Ducy of Red Hat
'Effective IT and Business Behavior Patterns', by Mark Smalley, 'The IT Paradigmologist'
'Securing Your DevOps Transformation', by April Edwards of Microsoft
Five Open Space sessions
Meet the speaker

Lian Li works as a Cloud Native engineer and consultant for Container Solutions, where she also spearheads our diversity and inclusion efforts. Lian is the organiser of ServerlessDays Amsterdam, a community conference and meetup series about the serverless ecosystem. She is also a Certified Kubernetes Administrator.