Where do you get started in helping an organisation move to the cloud? How do you keep the risks under control? How do you make sure you're thinking of everything—not just technology, but also people, processes, strategy, culture?
We can help you get answers to these questions. Care to play a little game?
The Cloud Native Transformation Game is a three-hour virtual session your team (up to 12 players) and our experts can use to help you use a make-believe case study to practice for your own real-life project.
Based on our experience in helping enterprises move to the cloud, Container Solutions has devised a set of patterns that make it easier for developers, managers, and executives to discuss, learn, and apply the best practices in Cloud Native. These are high-level patterns for strategy and risk reduction, intended to guide decision making—patterns for transforming your organisation and culture to this new way of thinking and working.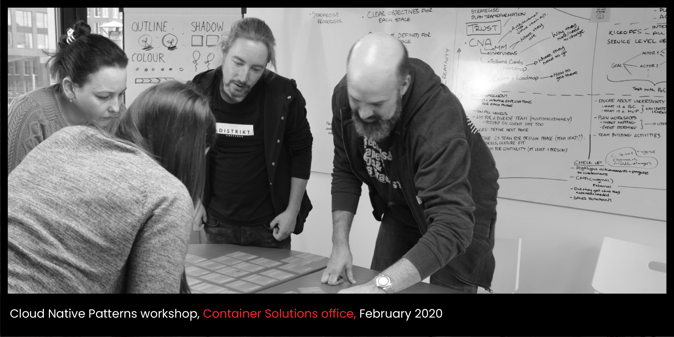 Our game includes several exercises where you will use patterns cards to discuss and implement a Cloud Native Transformation. Before jumping into the action, your game hosts will explain the concepts and provide a compelling business case why companies should take the leap into Cloud Native.
Who should attend?
Anyone with a rooting interest in your organisation's future can play! No technical expertise is needed—executives, managers, and engineers alike can join in. The conversations sparked while playing the Cloud Native Transformation Game will help your team think through its own real-life challenges and opportunities.
Takeaways
A clear understanding of what is involved in a Cloud Native Transformation
How patterns can be used to architect a transformation
A shared understanding of where you currently are in your journey to Cloud Native status and identification of the challenges you face ahead
A new vocabulary, shared among the players, for discussing next steps
Submit the form to get more information about setting up a game for your team.